Translate complex topics into an understandable and memorable B2B website.
Founded in 2007 in Ho Chi Minh City, Source of Asia (SOA) is an International Business Accelerator for corporations and entrepreneurs willing to embrace the dynamics of Asia in the new global economy. SOA is on a mission to seize opportunities offered by Vietnam and ASEAN to make internationalization become a reality. SOA team is dedicated to enabling their clients to explore new markets, operate and grow their business on the ground in Vietnam, across ASEAN and beyond.
The challenges
The old website was not only outdated, both in terms of design and content, but was also inefficient. As part of their rebranding, SOA wanted to redesign a new B2B website to provide their prospects with a positive image of SOA, showing the expertise, dynamism and their human-centric approach. From a lead generation perspective, they wanted to attract prospects with an efficient SEO and convert them by having many CTAs to book a meeting with an expert. Additionally, they want to keep in touch with their prospects via email marketing.
Content Strategy
We started the web design project with a collaborative workshop, through which we learnt more about SOA's complex services and helped them set out strategic objectives such as:
Develop a site map that facilitates user navigation and lead generation
Optimize the navigability of information and increase search engine performance internationally
Visualize page structure to prioritize content that meets user expectations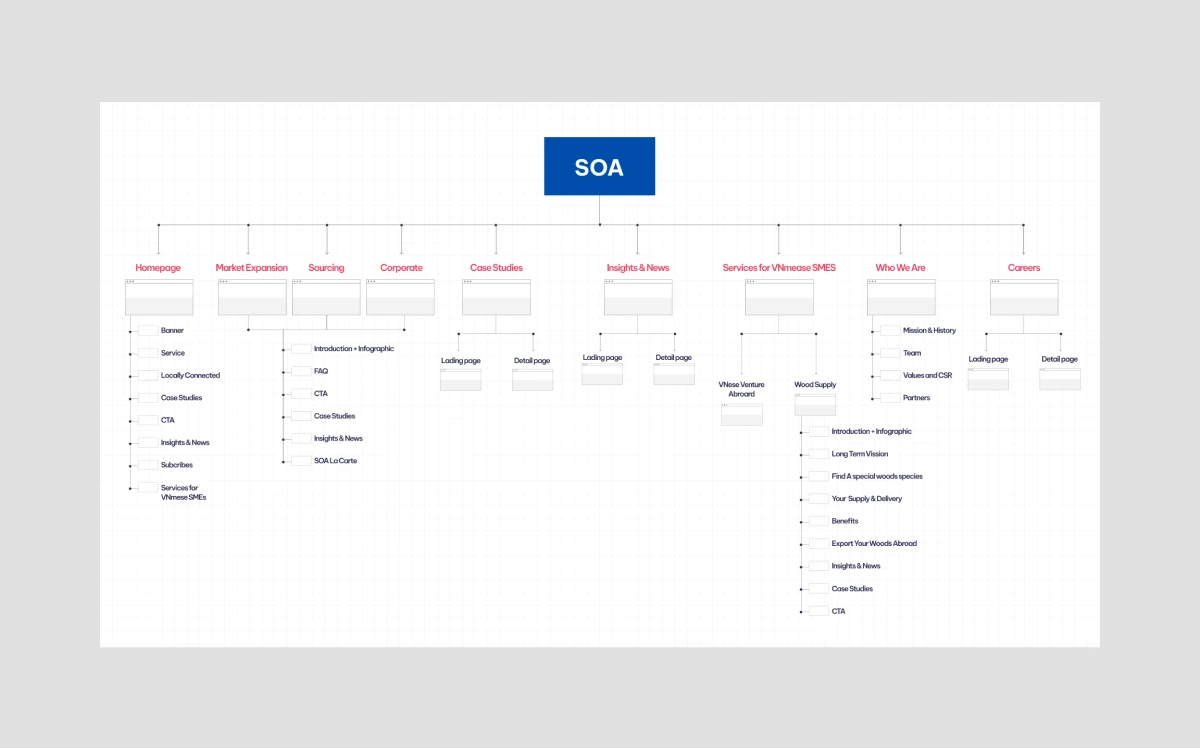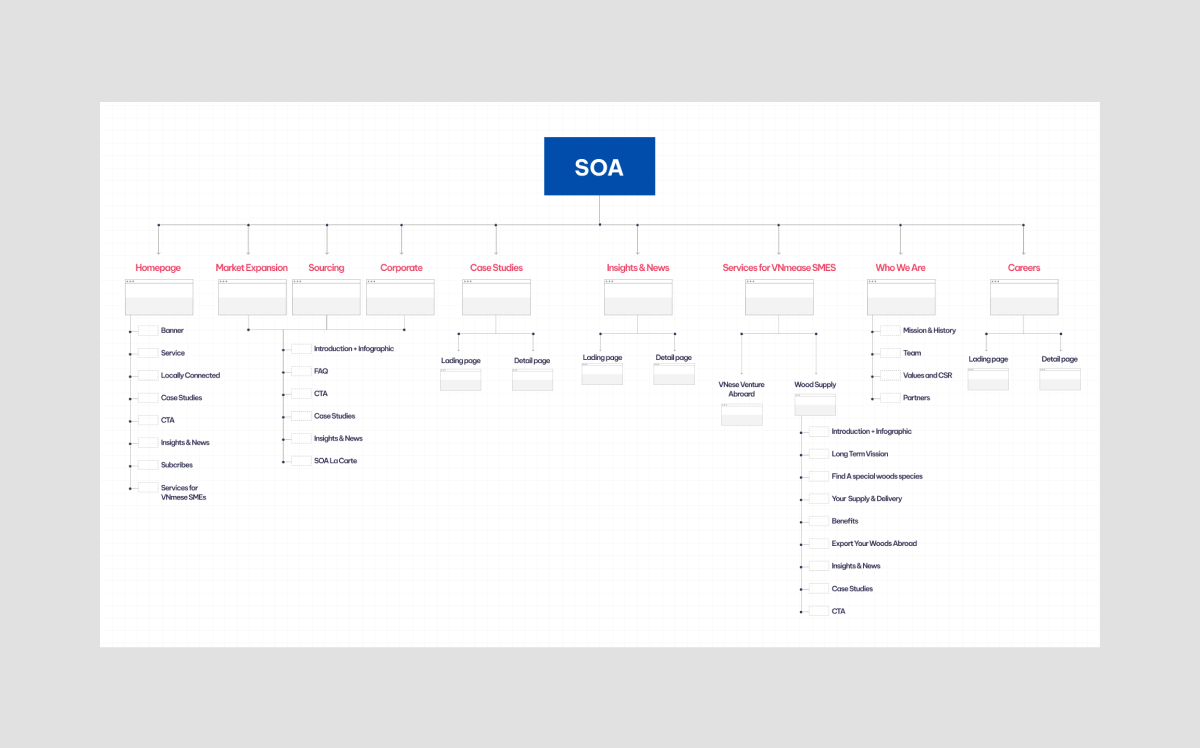 Wireframe
After understanding the company's objectives and customer journeys, we created wireframe for the key pages on the website, focusing on space allocation and prioritization of content, functionalities available and intended behaviors.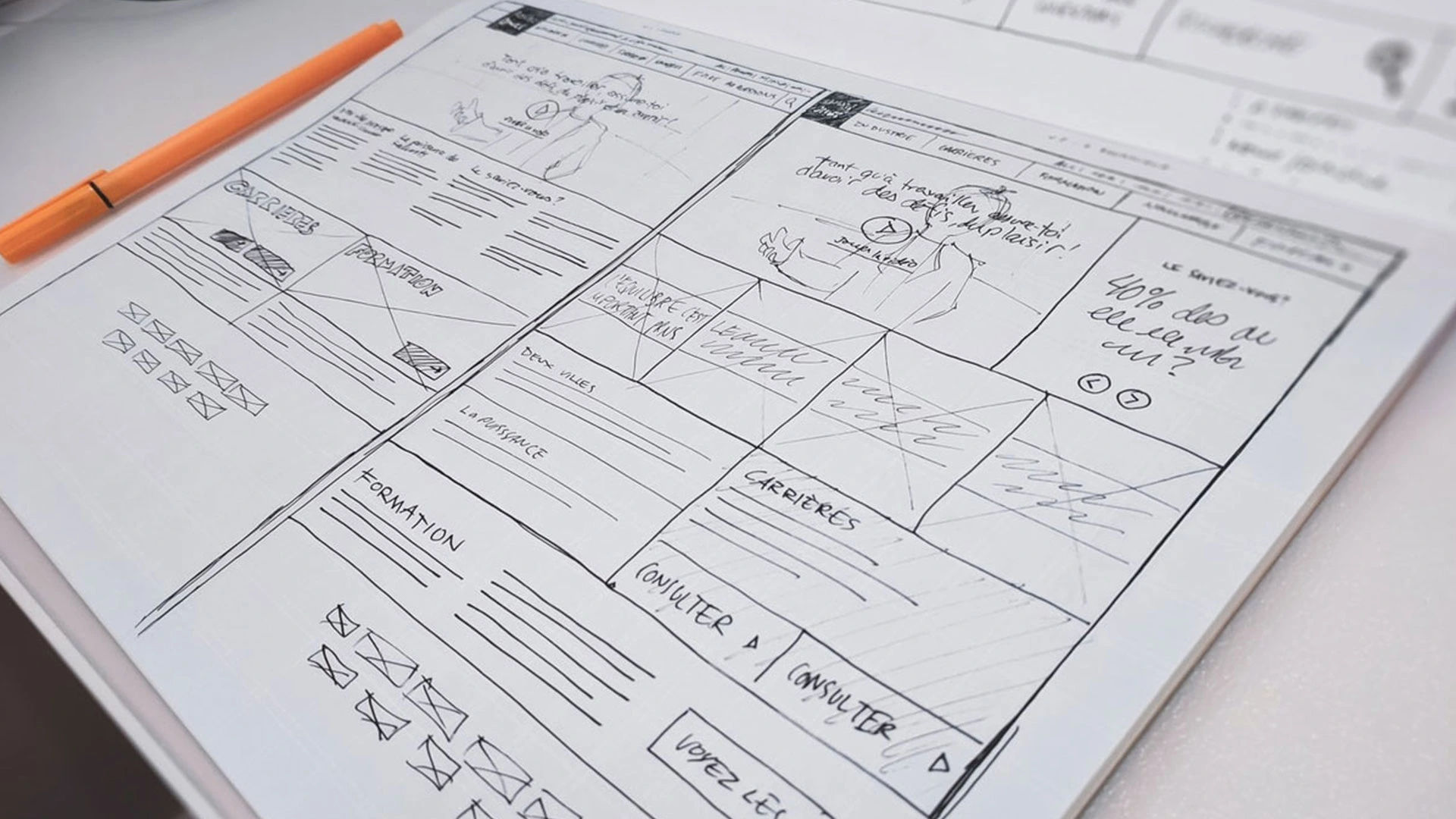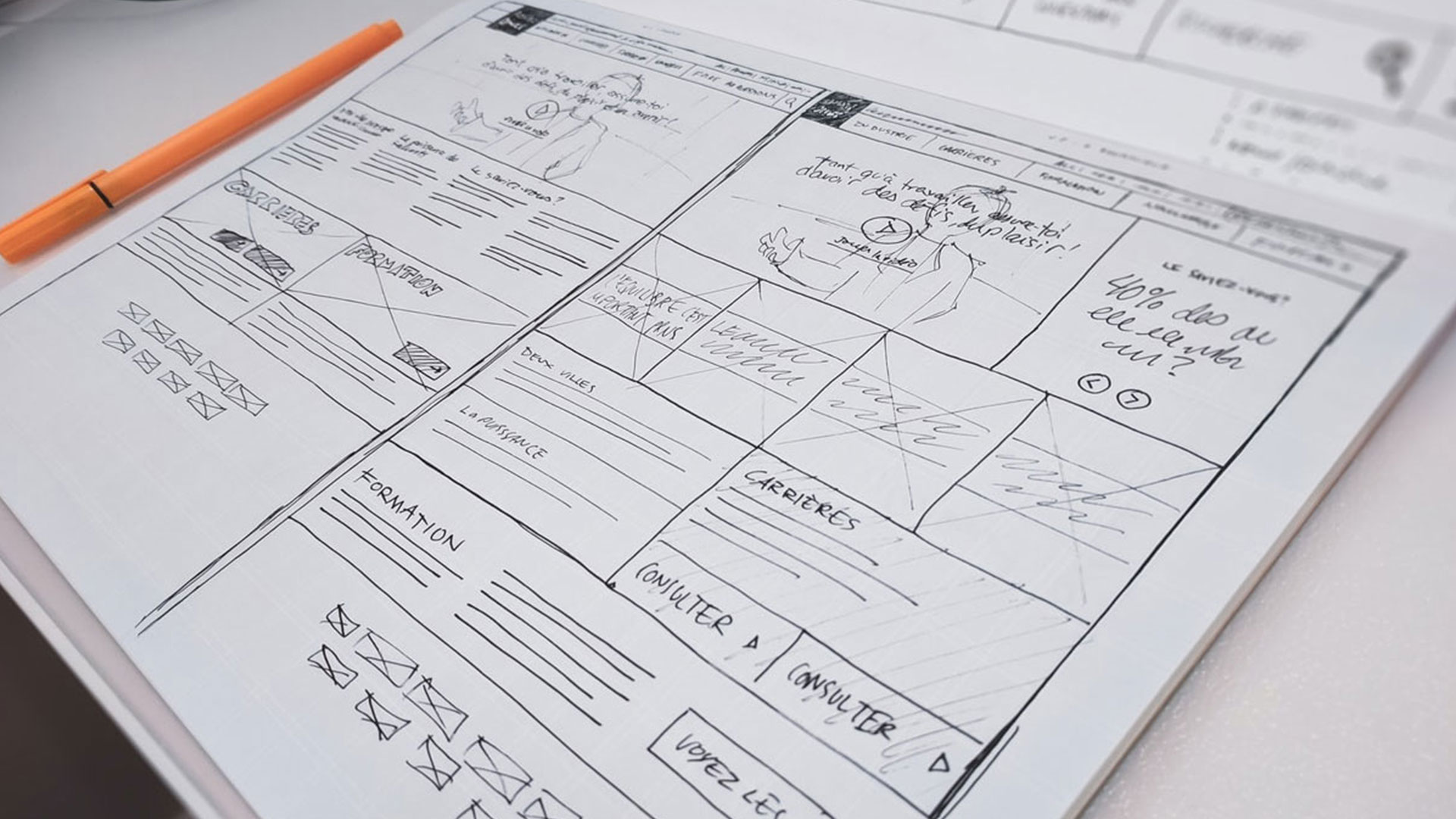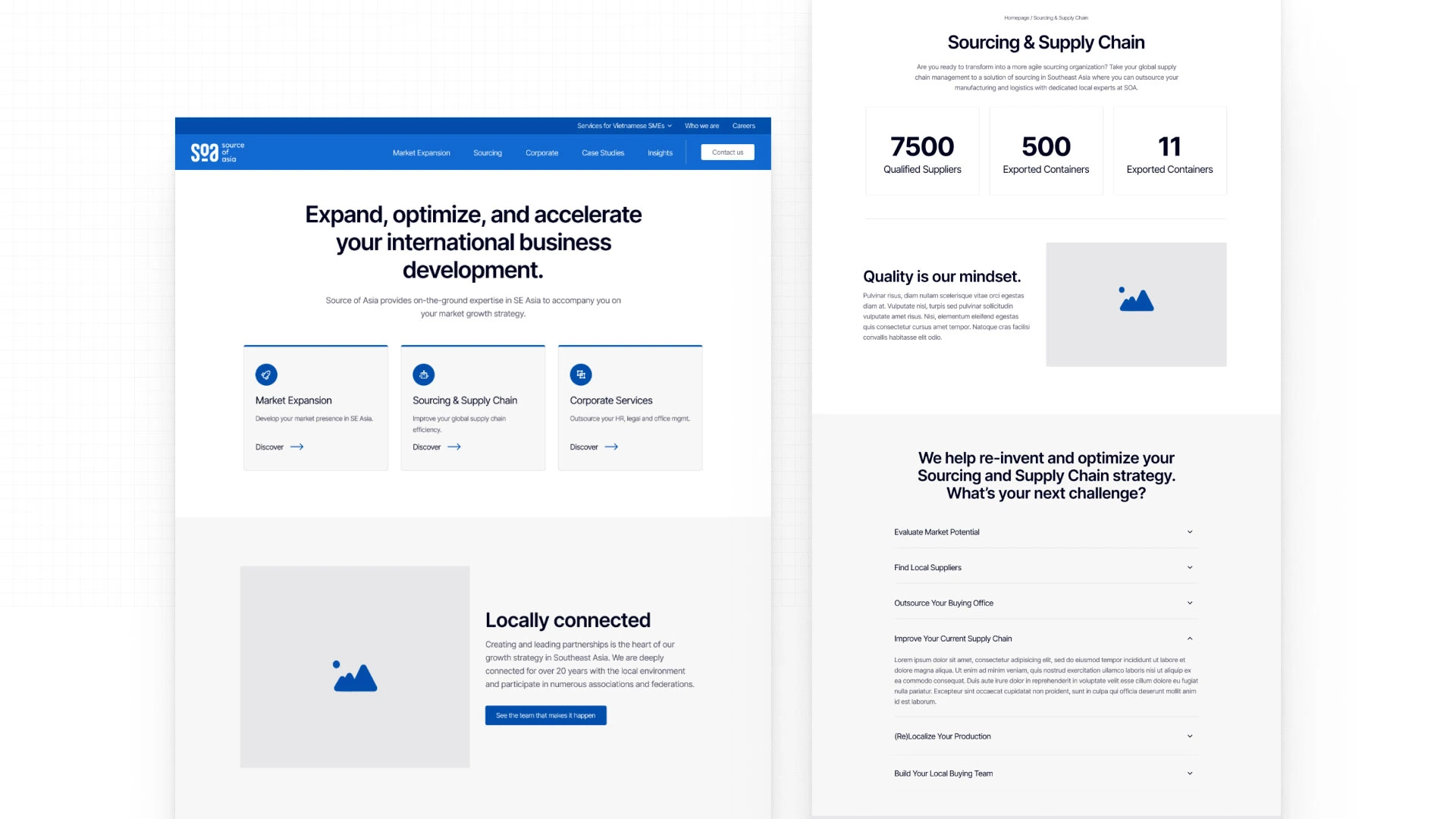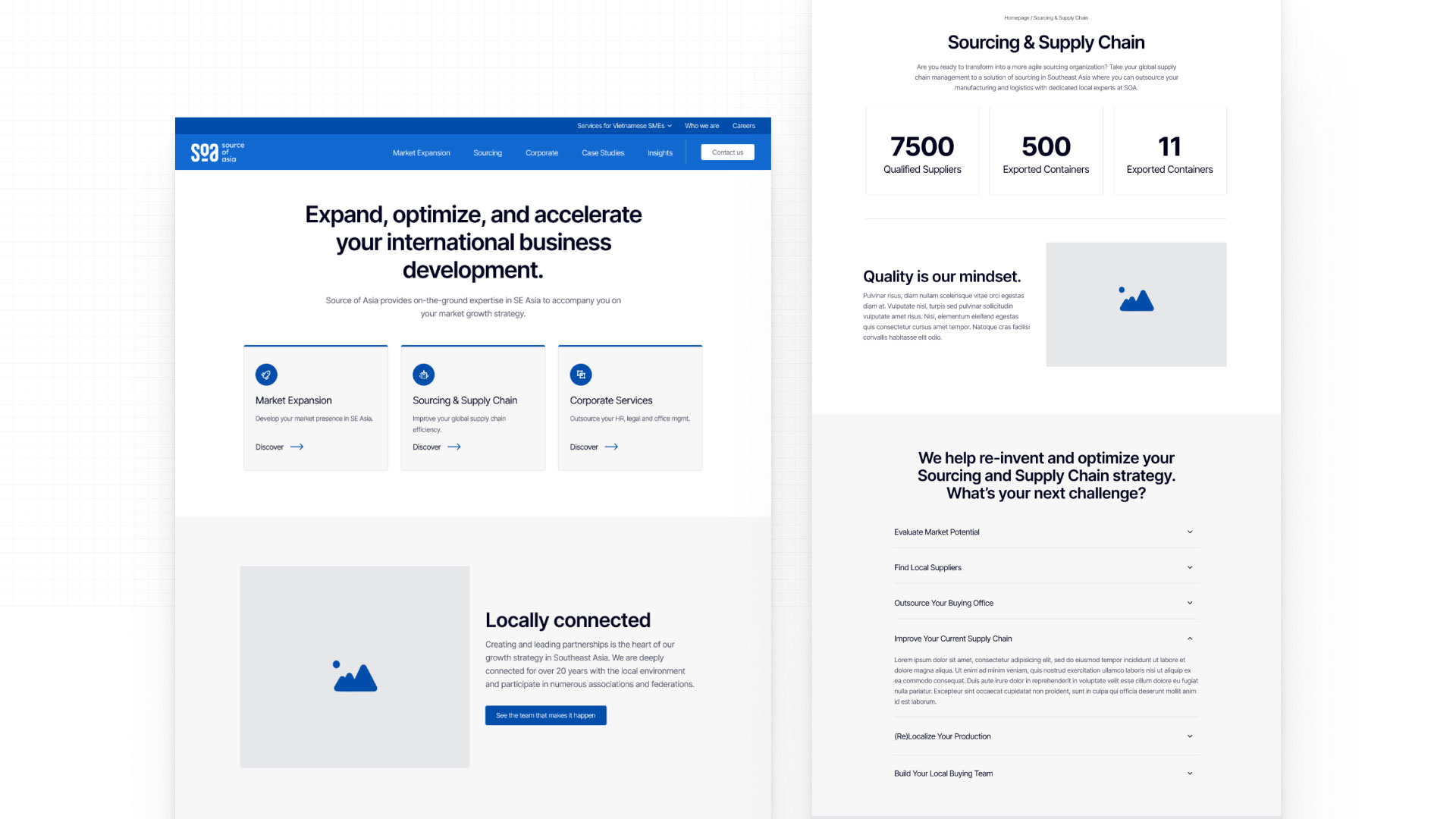 Custom Web Design & Development
We incorporated the pink and blue gradient background consistently in our web design in order to help strengthen the branding. Additionally, to reflect the energy of the SOA team, we added subtle yet elegant animations to make the website more lively but not distracting. Since the content of each page is long, we crafted each section carefully with clear priorities and hierarchies to make it more appealing for readers to follow through. We also converted them to relevant content through internal linking. These modules or elements can be reused on different layouts, allowing flexibility in building content pages while keeping the design consistent and development cost-efficient. We also strategically placed Call-to-actions (CTAs) throughout the website to help maximize conversion.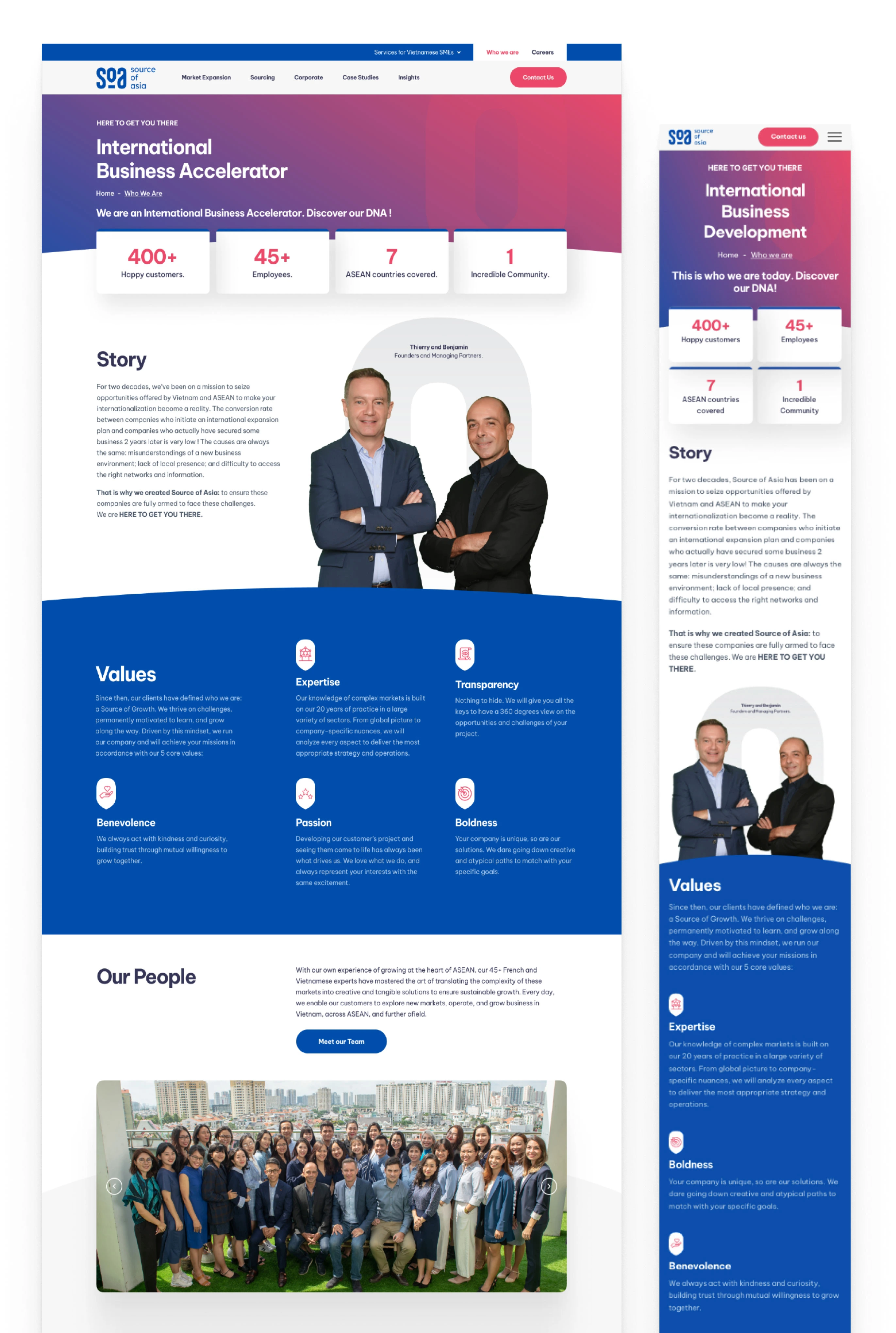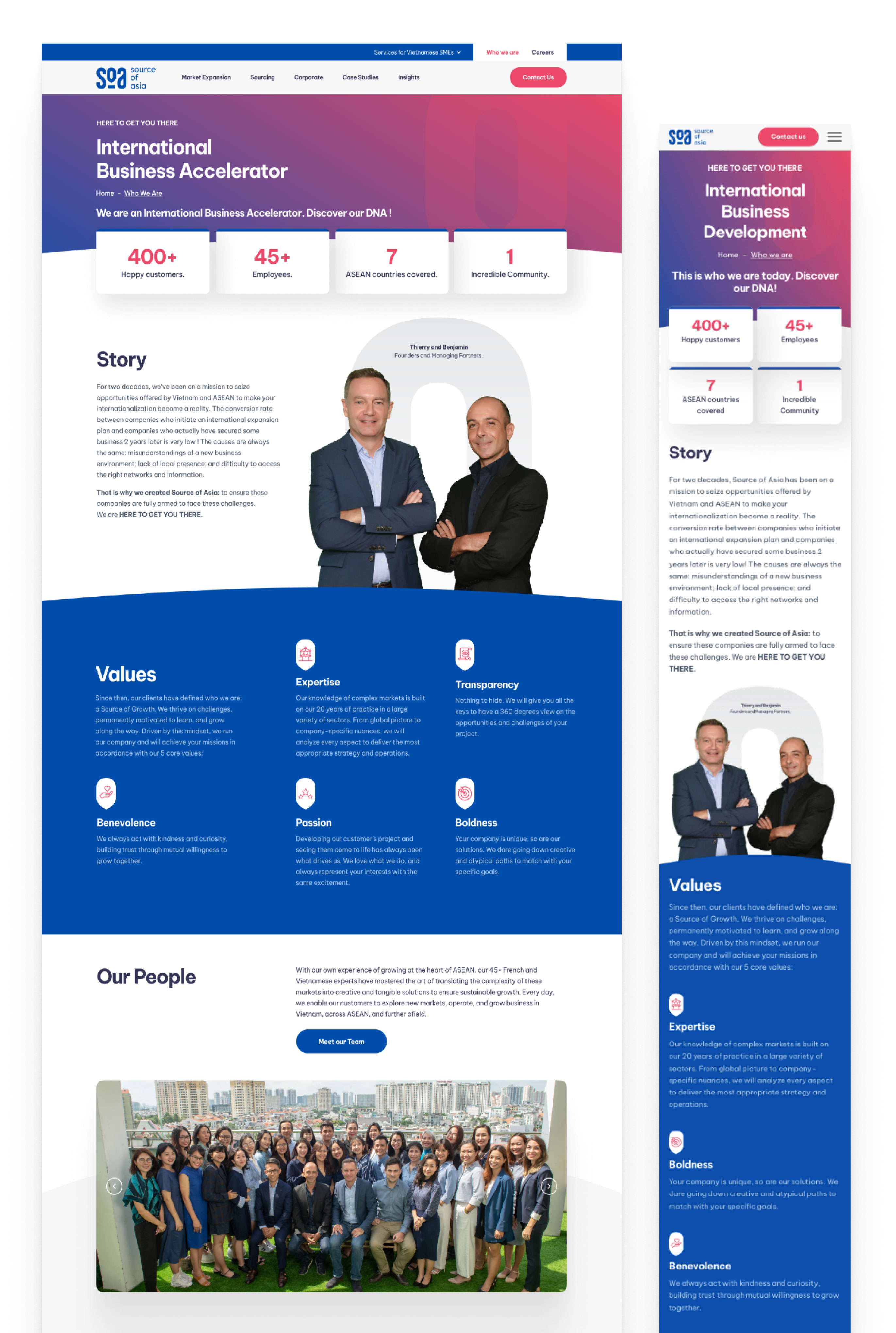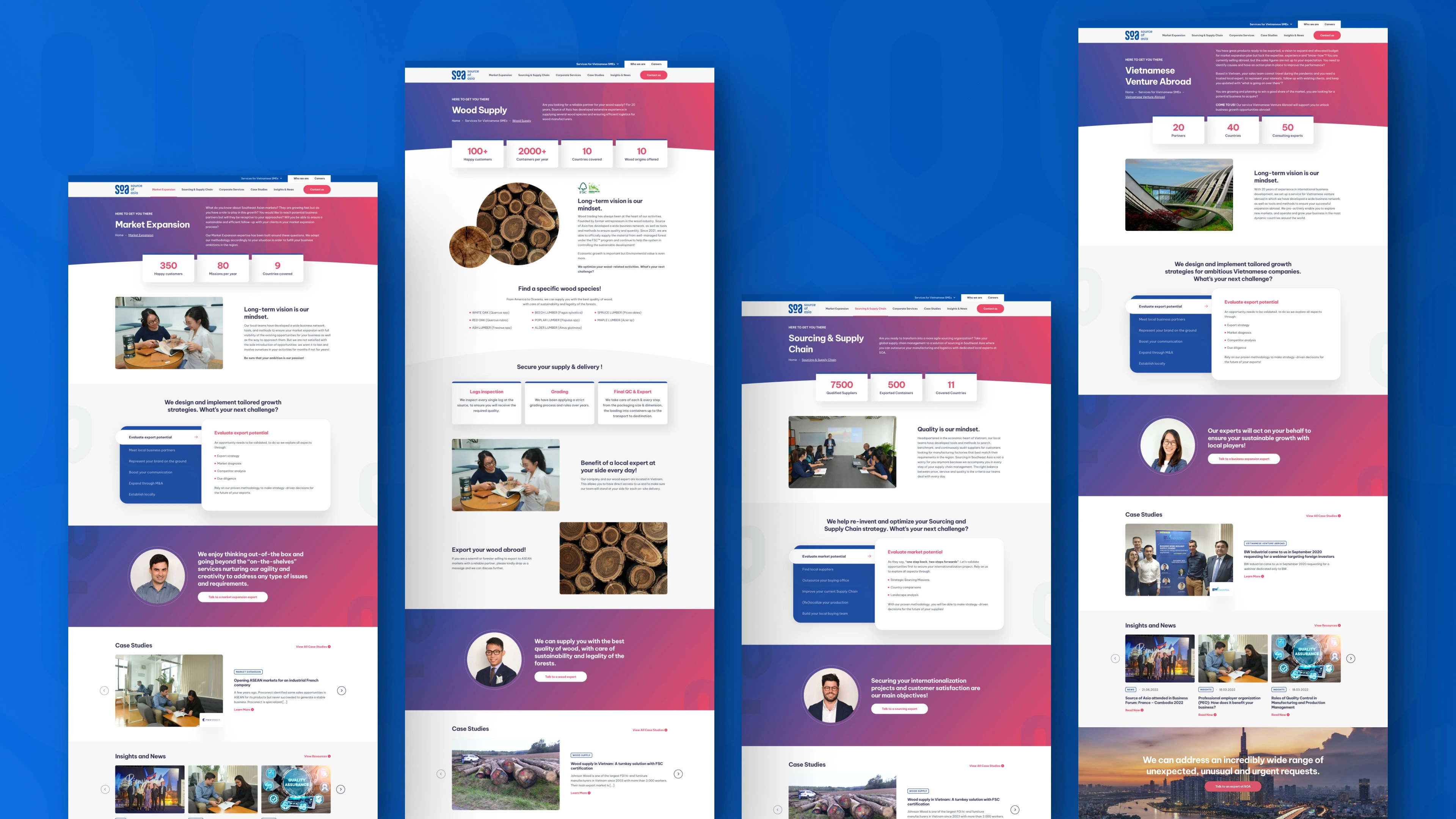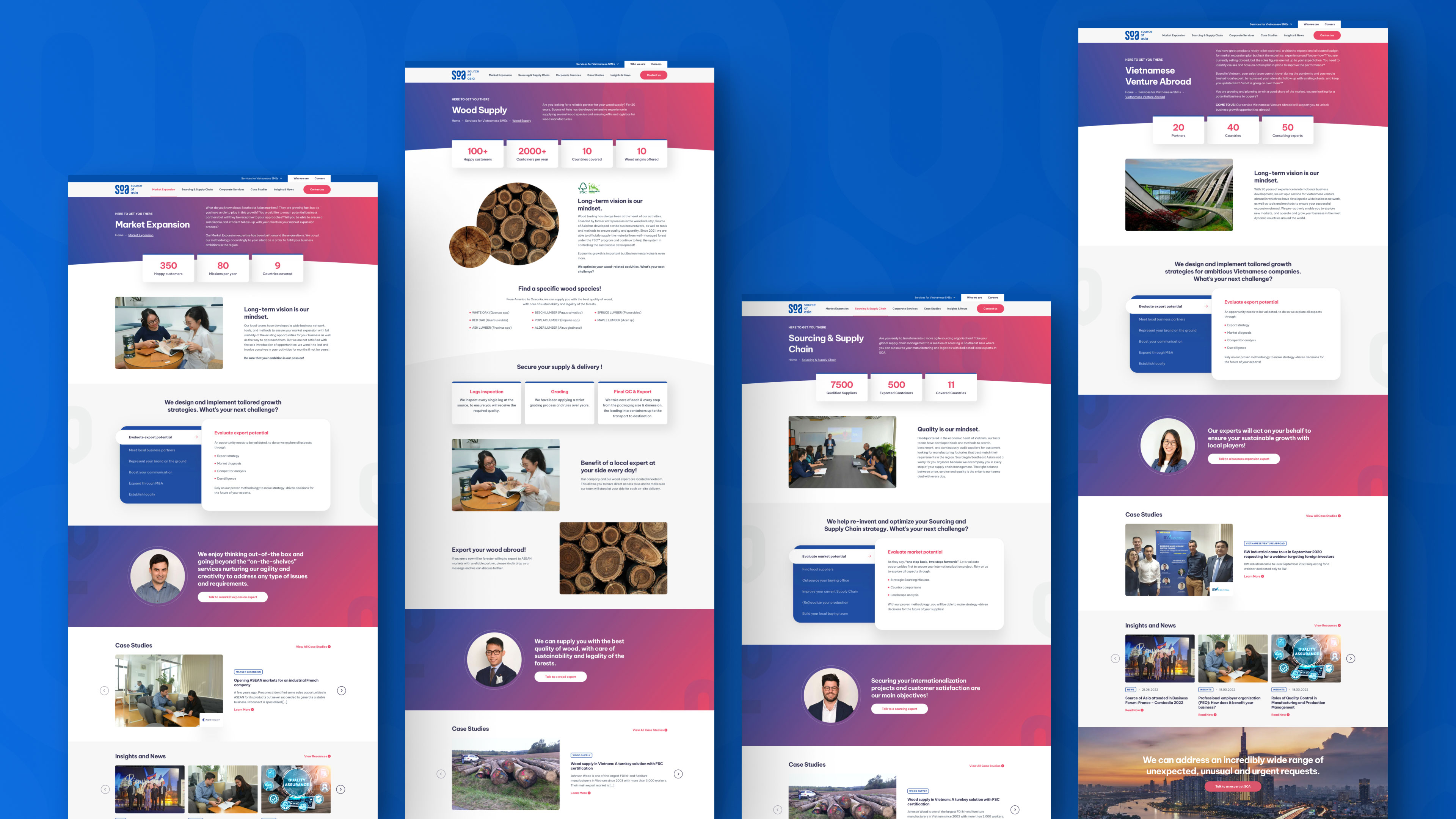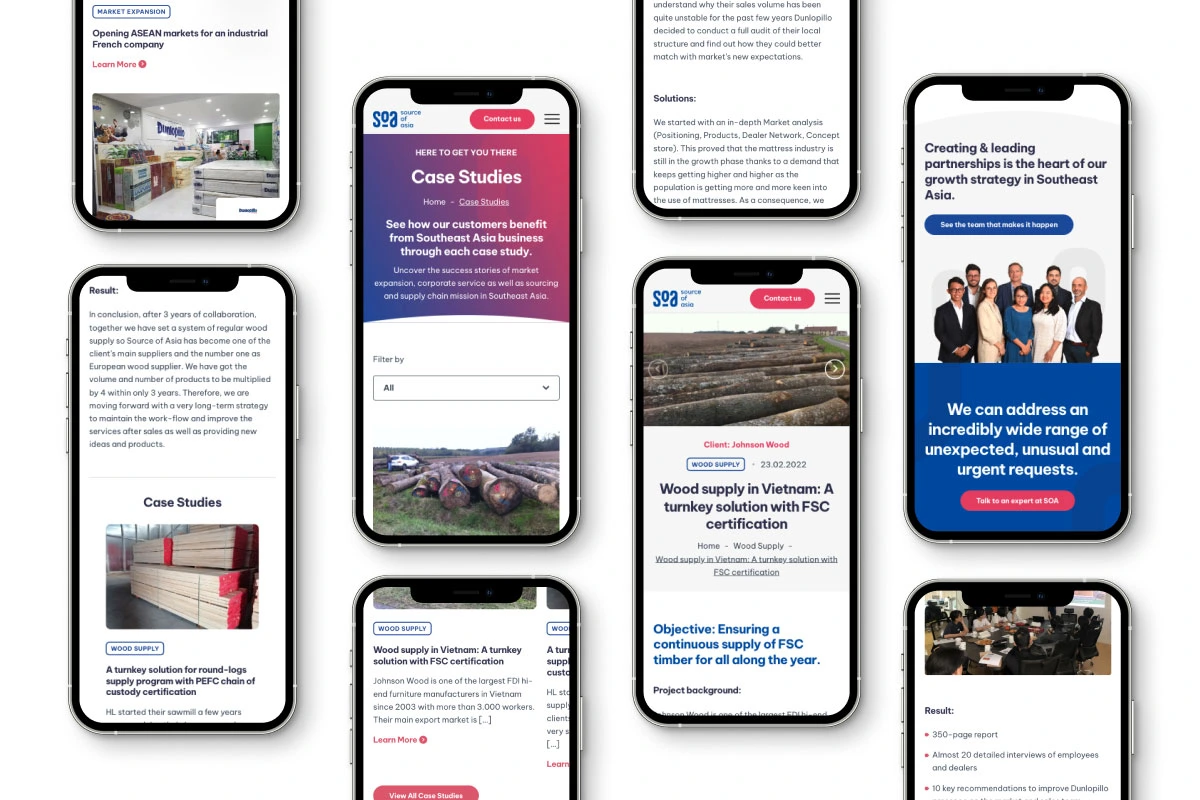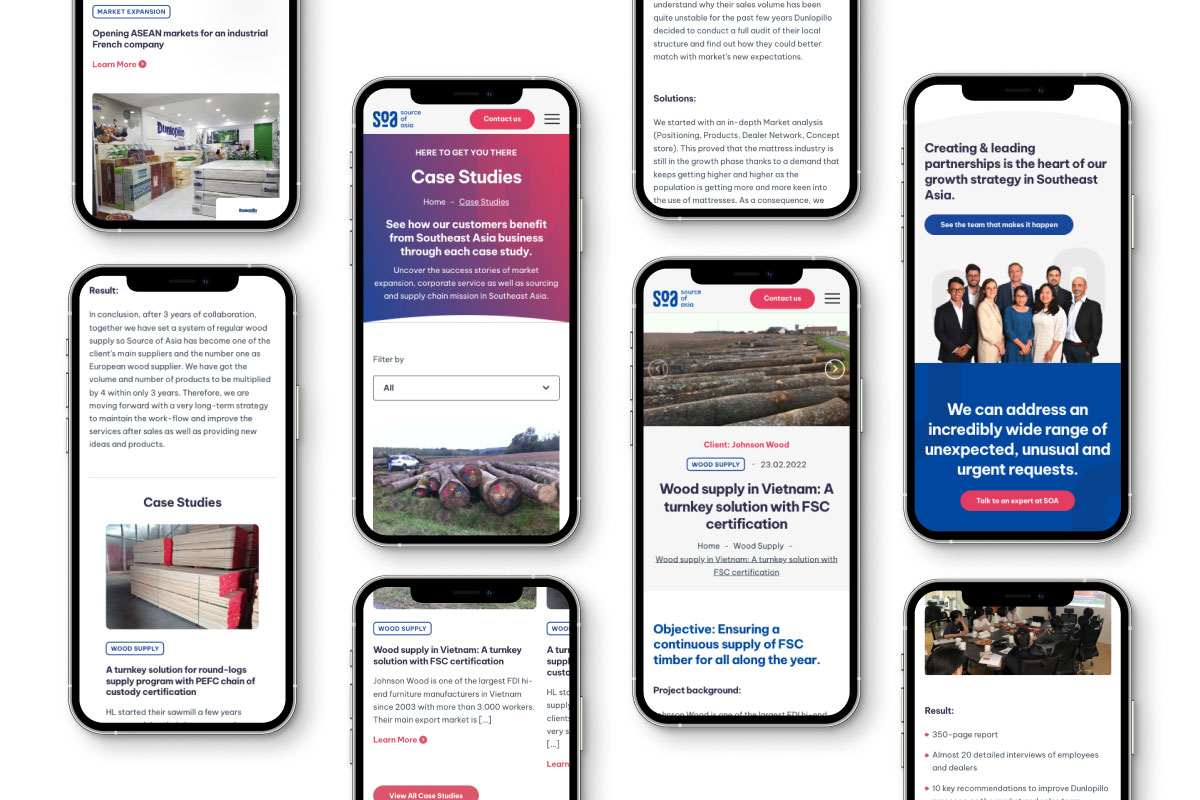 Case Studies
It is important for prospects to see how SOA's clients benefit from Southeast Asia business through real success stories. Therefore, we designed the case studies landing page where viewers can filter them by specific categories related to their industries. Each case study includes 3 main parts: project background, solutions and final outcome. As a result, this structure helps readers to quickly understand the big picture.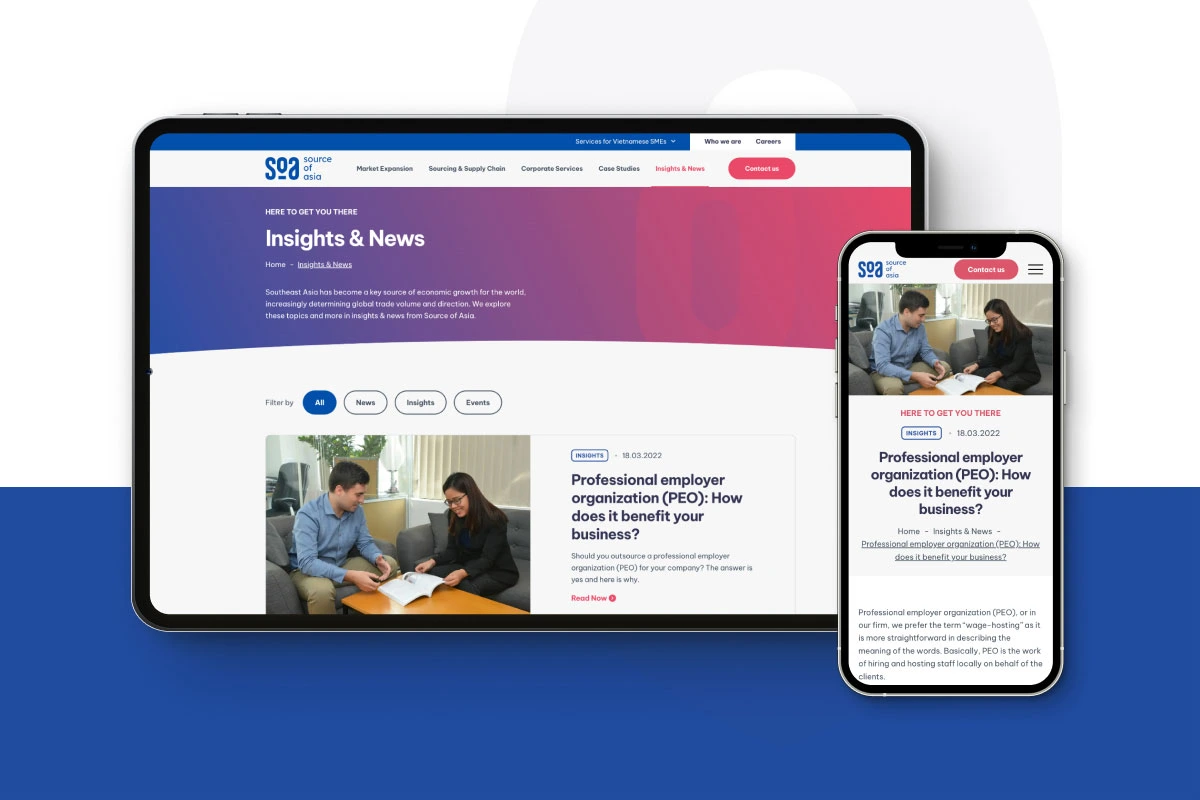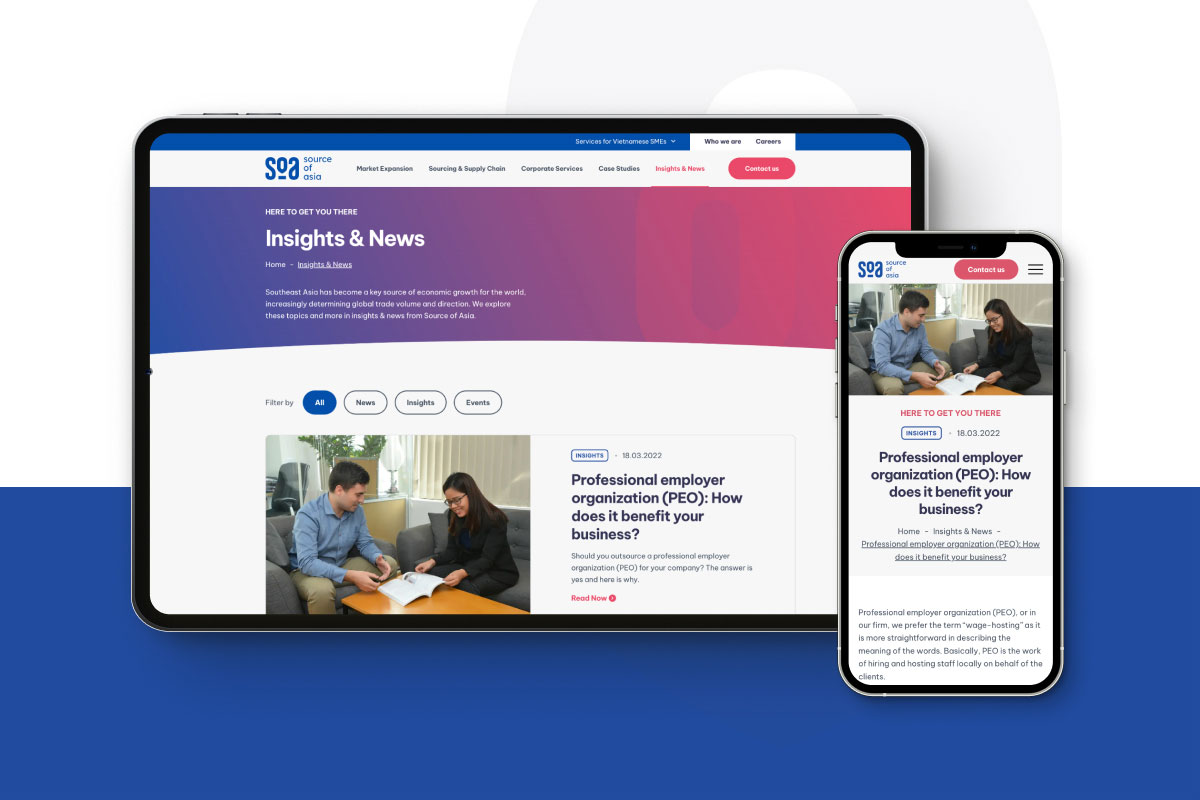 News & Insights
As one of the market leaders, SOA particularly needs a platform for regular knowledge and insight sharing. By offering high-quality content with well-defined strategies, these articles can also help SOA achieve healthy organic SEO growth for their B2B website.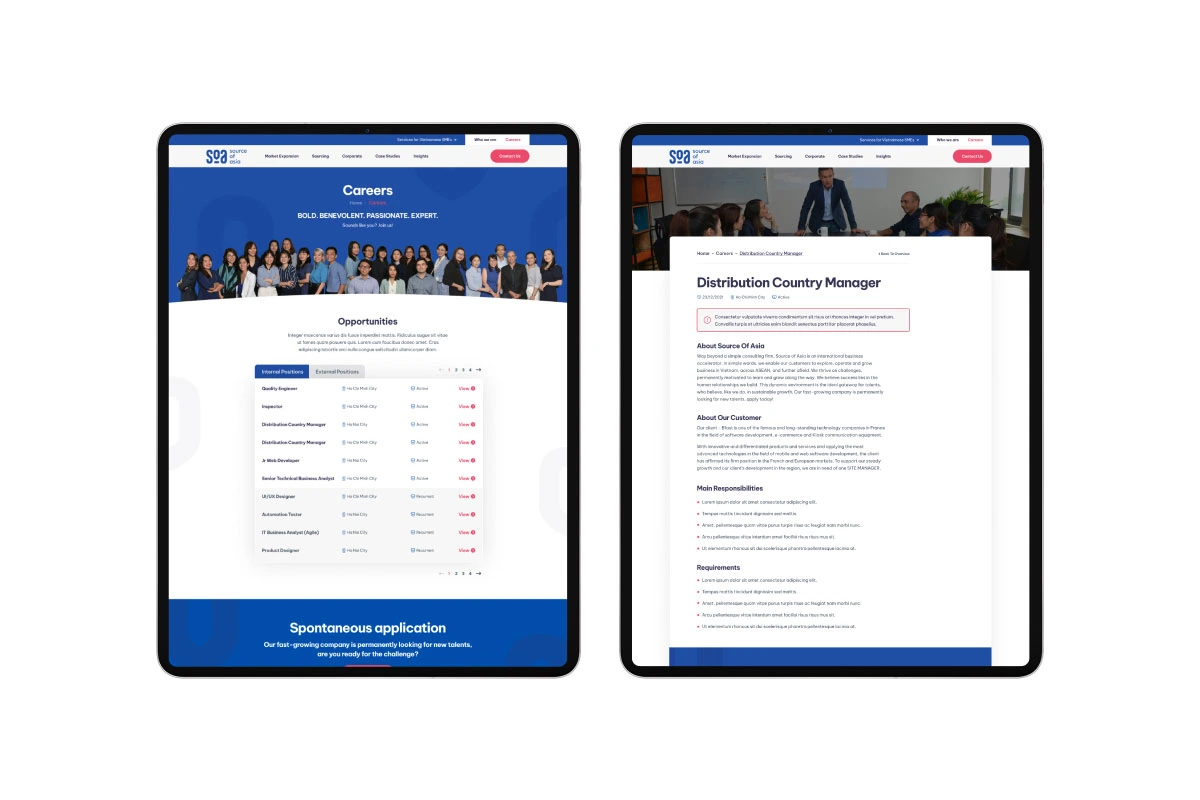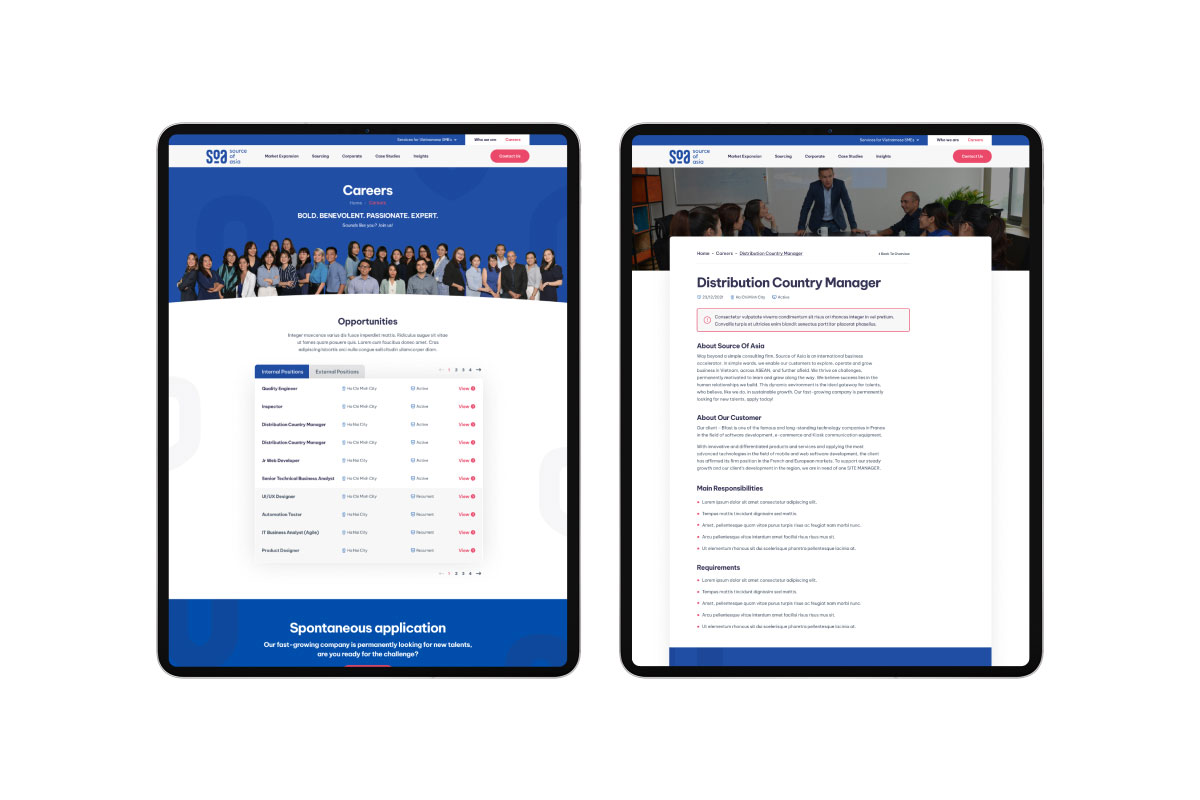 Careers
SOA recruits not only for their internal team but also for their customers. While some positions are actively open, others are considered recurrent. Online application form also helps recruit talents effectively.
THE OUTCOME
Beautiful, user-centric B2B website with insightful UX and content strategy
Fast-loading (93/100 for Desktop and 65/100 for Mobile on PageSpeed Insights at the time of launch) and highly secured
Custom WordPress CMS that allows easy content update & maintenance
Healthy organic SEO growth
Increase conversion
"We were impressed with their availability and capacity to understand the project and handle it as a whole with a results-driven mindset. The website is nice, functional, at the image we wanted. More importantly, it has already shown the success by receiving an average of 1 inquiry per day through the website. The previous one was bringing 2 a year top."
Zacharie Blondeau
Operations Director | Partner at SOURCE OF ASIA