Redesign a content-first website for an award-winning communications consultancy
Vero is an award-winning communications consultancy advising some of the world's leading brands, corporations, and non-profit organizations across Southeast Asia.
Vero designs integrated marketing and communications strategies that resonate within the region's digital ecosystems and fast-growing economies. With offices in Indonesia, Myanmar, the Philippines, Thailand, and Vietnam, Vero is a team of approximately 180 PR, social, digital, influence, and creative professionals. Winner of PRovoke 2021 Southeast Asia Consultancy of the Year Award, Vero has a distinctive approach to earned media, putting digital technology at the core of its business and championing stories of progress.
Vero regularly produces research papers examining relationships between brands and audiences, digital trends, and emerging cultural impact. Vero produces playbooks for brands on topics such as but not limited to management of disinformation threats, and the media ecosystem of esports.
The challenges
Vero approached us on the cusp of their rebranding for a new website that focuses on showcasing their case studies, research papers and insights of the industry. The old website was outdated and no longer embodied what they stand for as an international brand consulting shop. They needed an architecture revamp, and fresh air.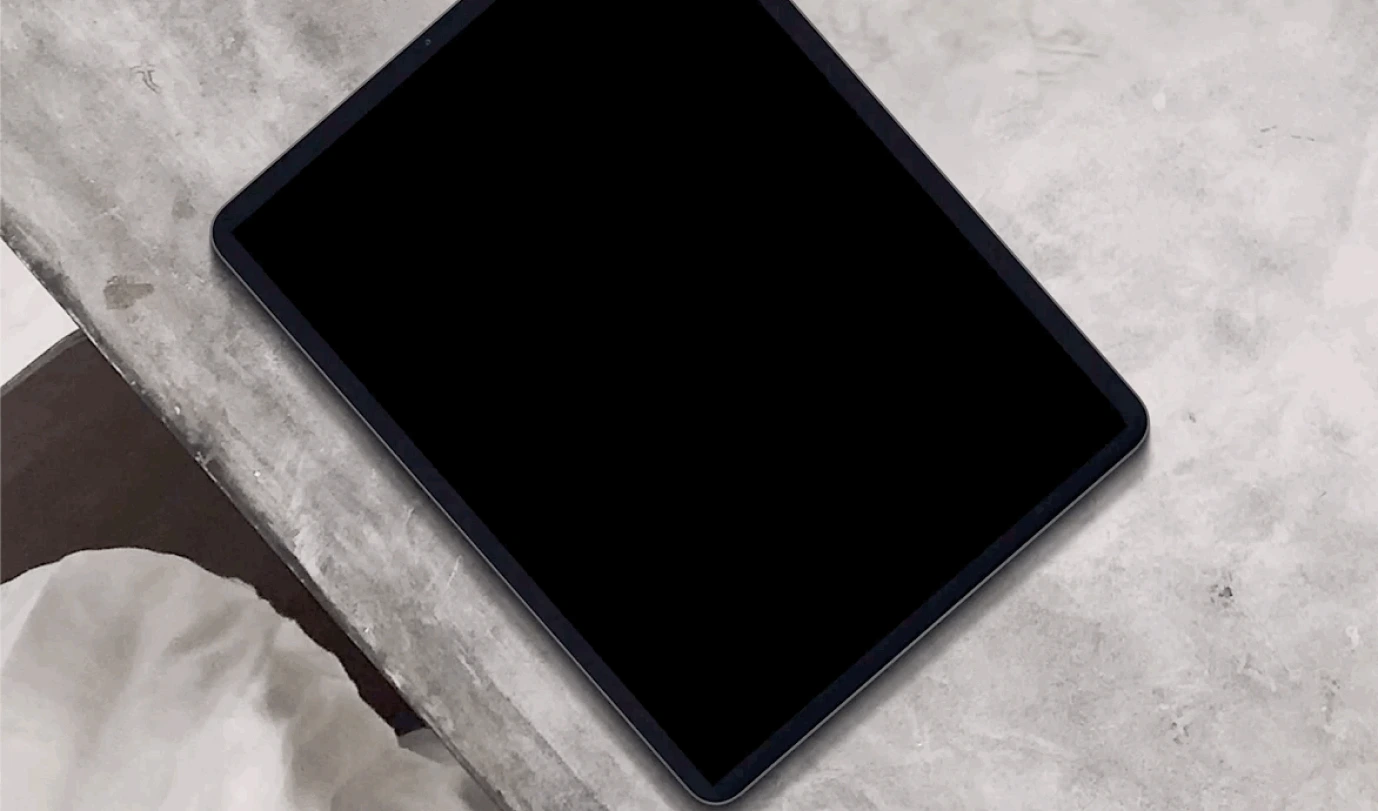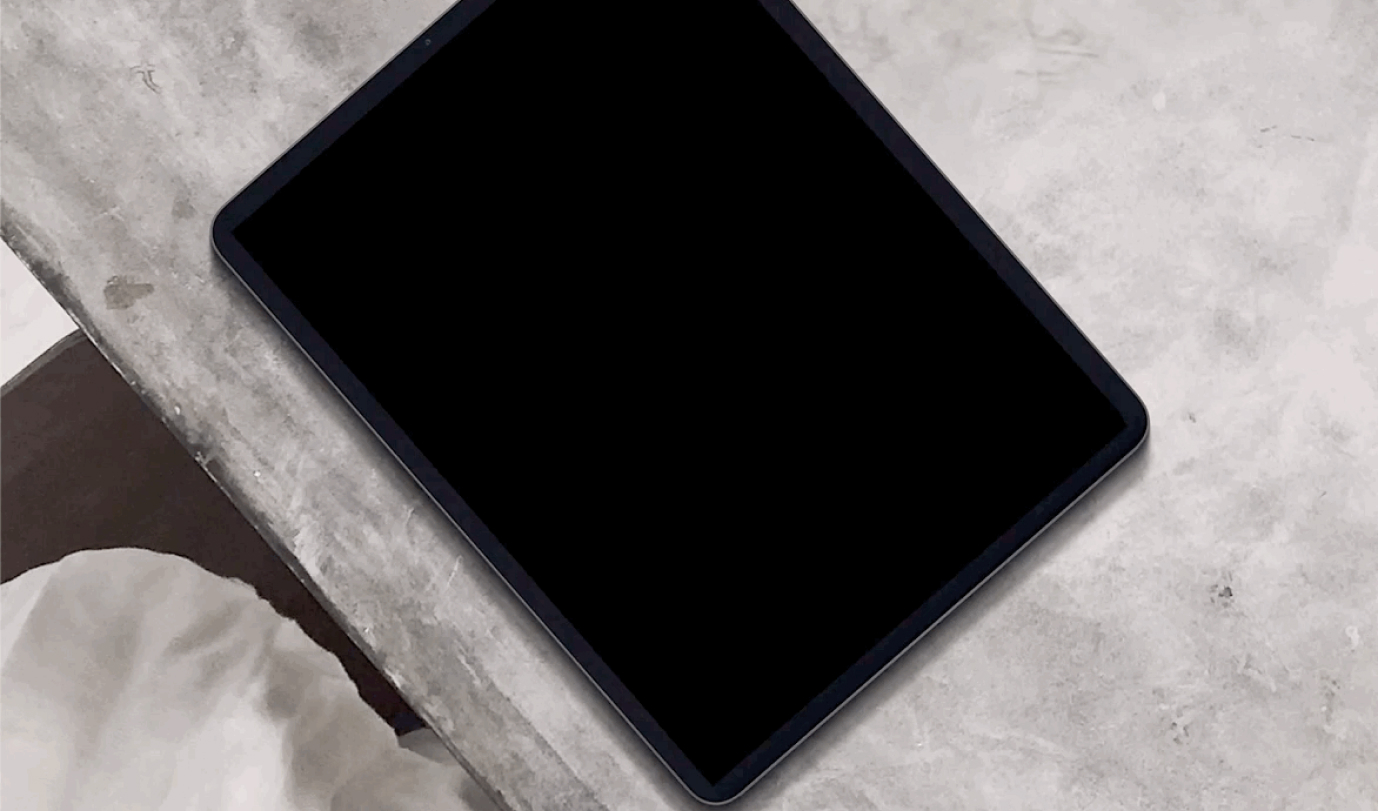 Web design that captures the brand energy
To capture the energy of Vero's hardworking and dynamic team, our website design was based on Vero's brand colors which is a vibrant color palette. The ultramarine shade of blue that is used as the primary brand color is in fact a color generally used for trust.
Homepage
With the combination of bold color backgrounds, typography and animation, we want the new homepage design to be modern, sleek and intuitive with a strong emphasis on its new branding.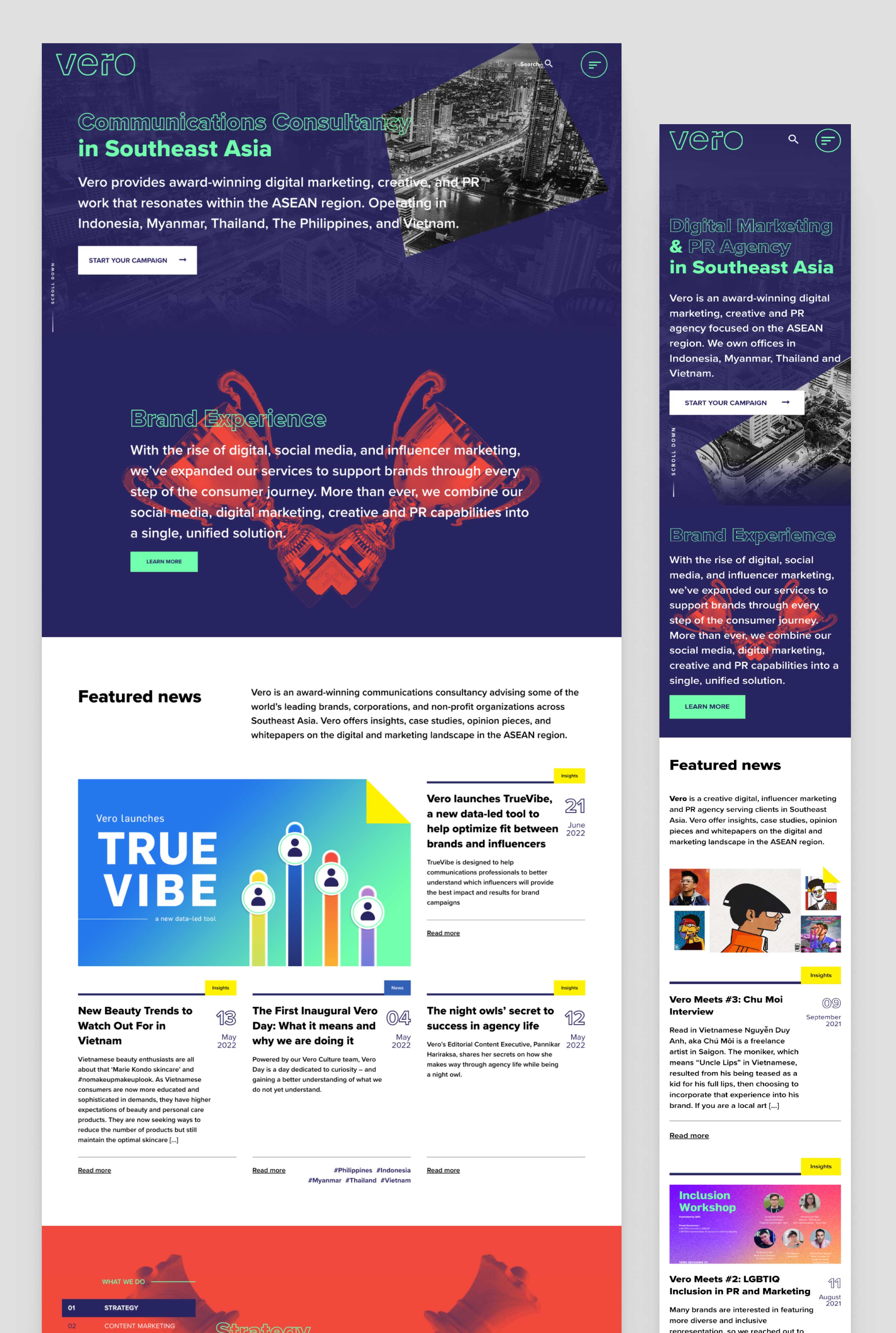 A Content-driven Web Design
As great story-tellers themselves, Vero team wanted their new website to be "content first" by consolidating different types of content such as case studies, news, insights into a blog format so that they can appear consistently on all pages.
On their Work page, we introduce all services and related case studies. On Locations page, we introduce each country where Vero is present followed by a section of News, Insights and Whitepapers related to that country. Similarly in News & Insights section, the use of hashtags allow effective interlinking which is beneficial for the website SEO.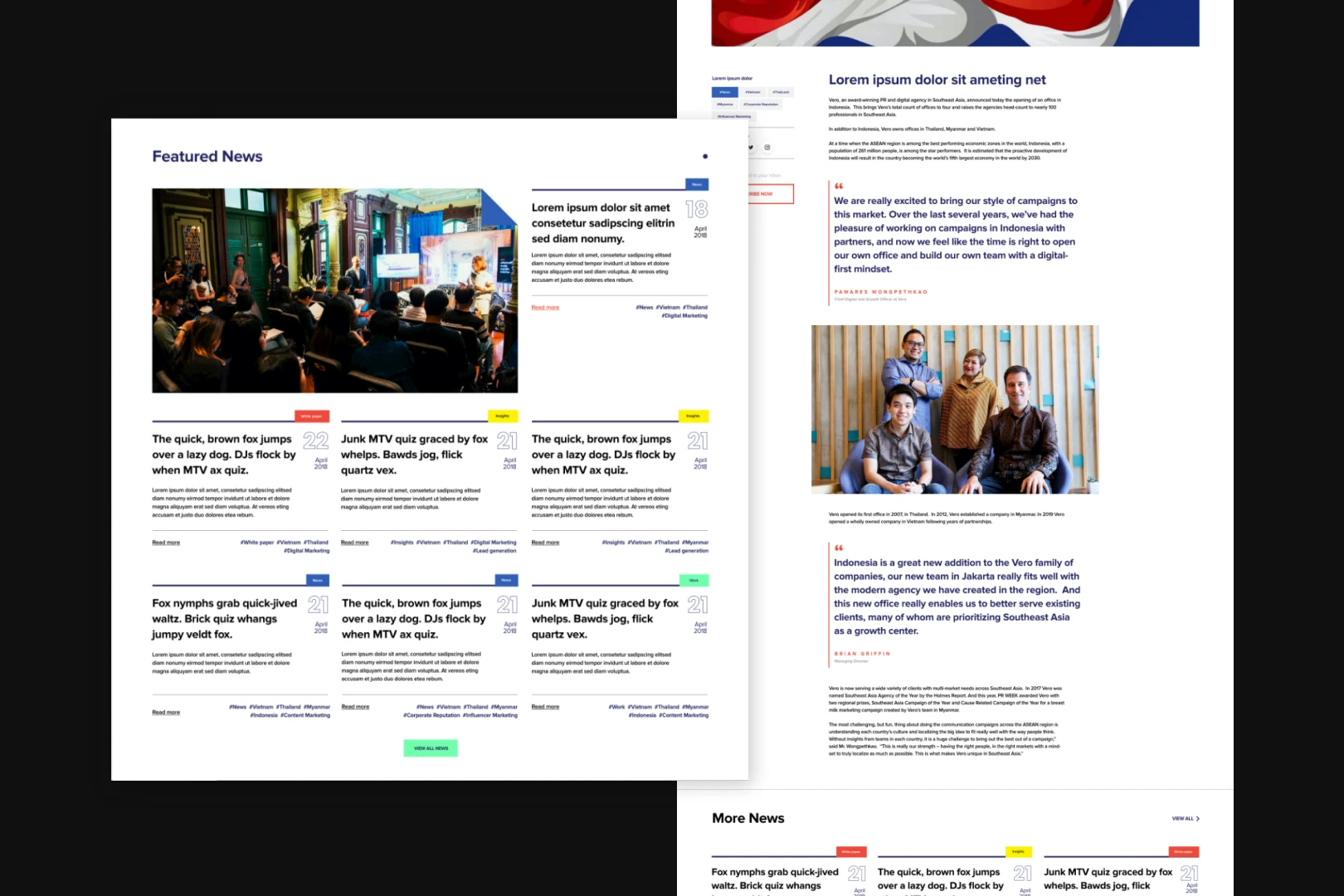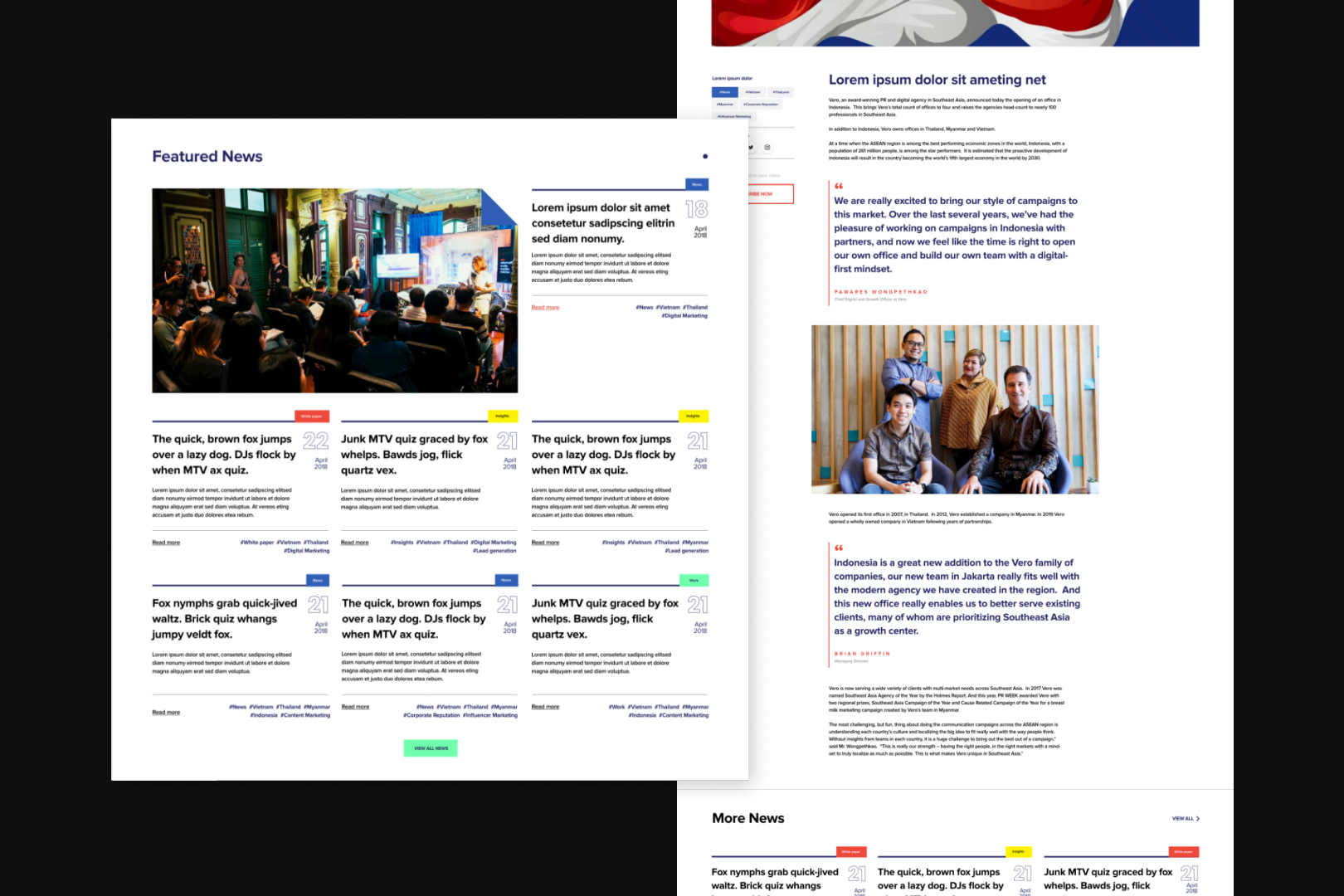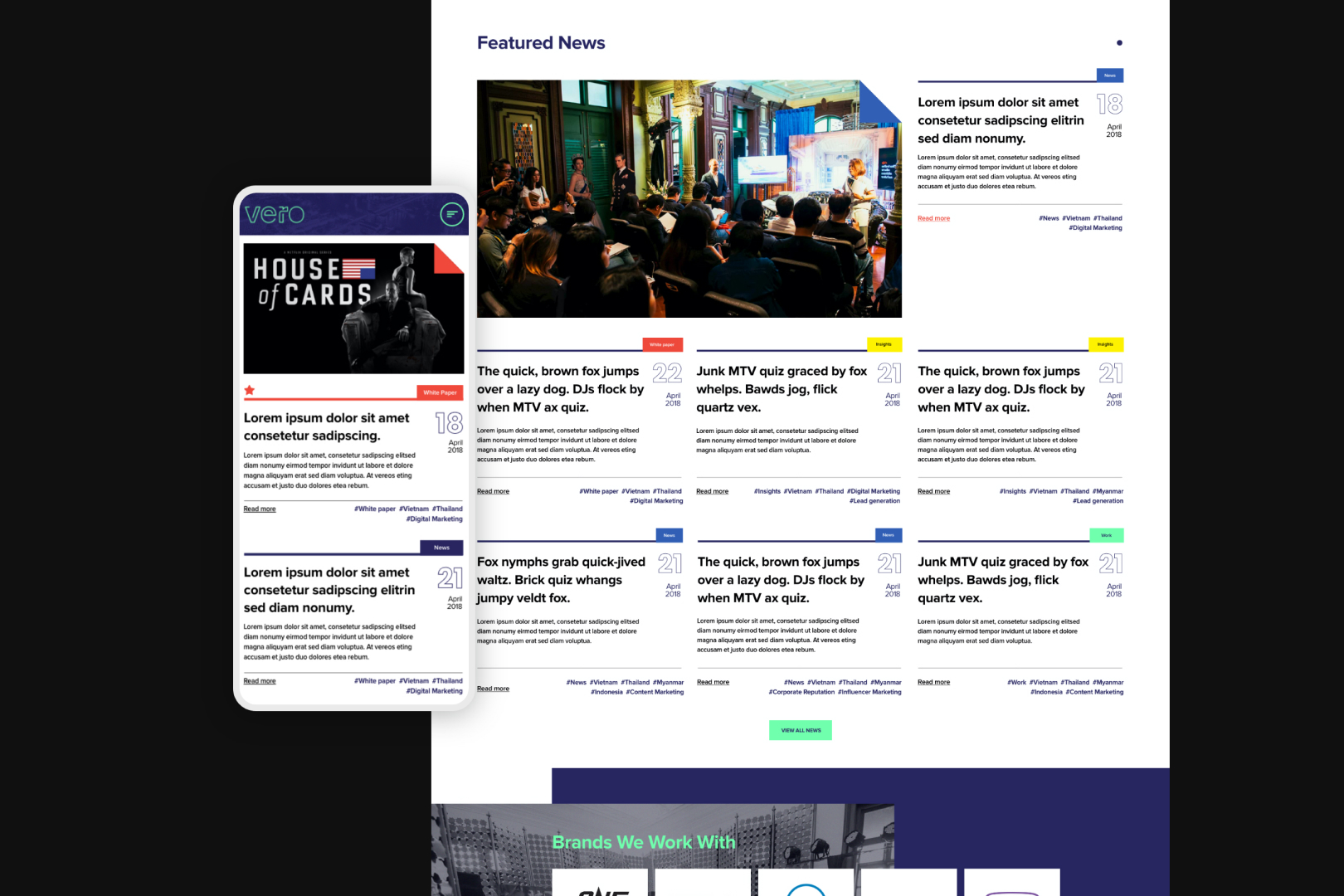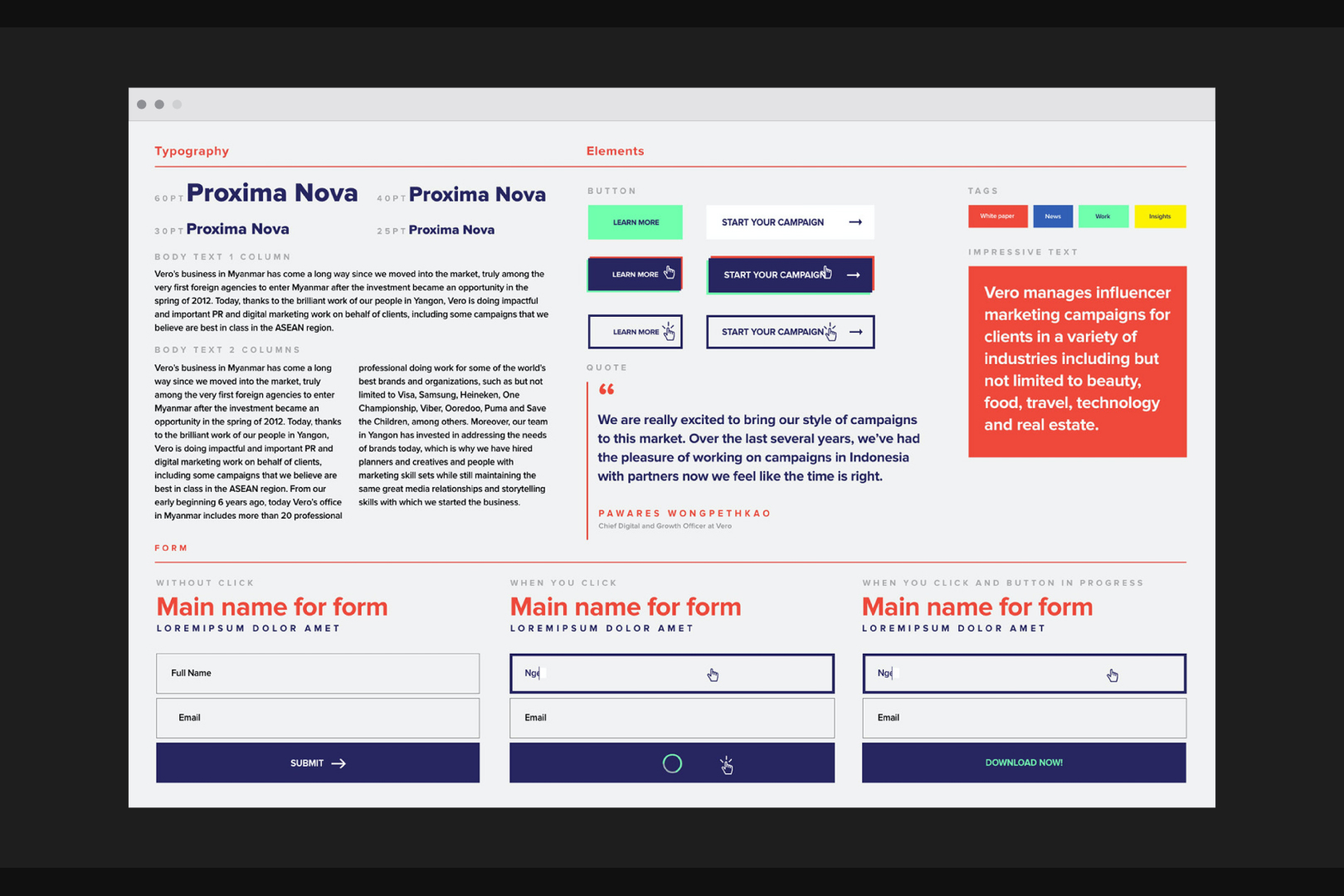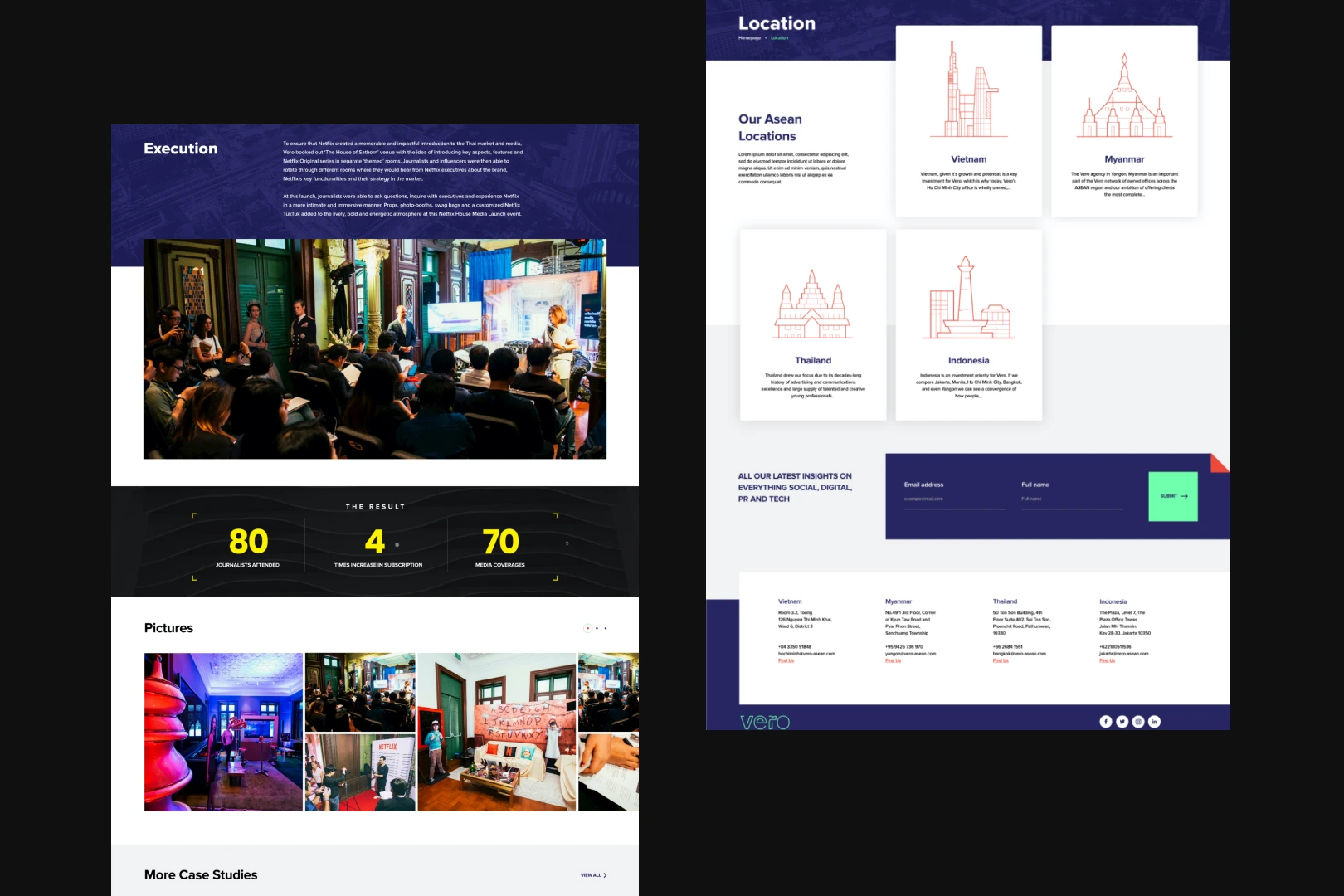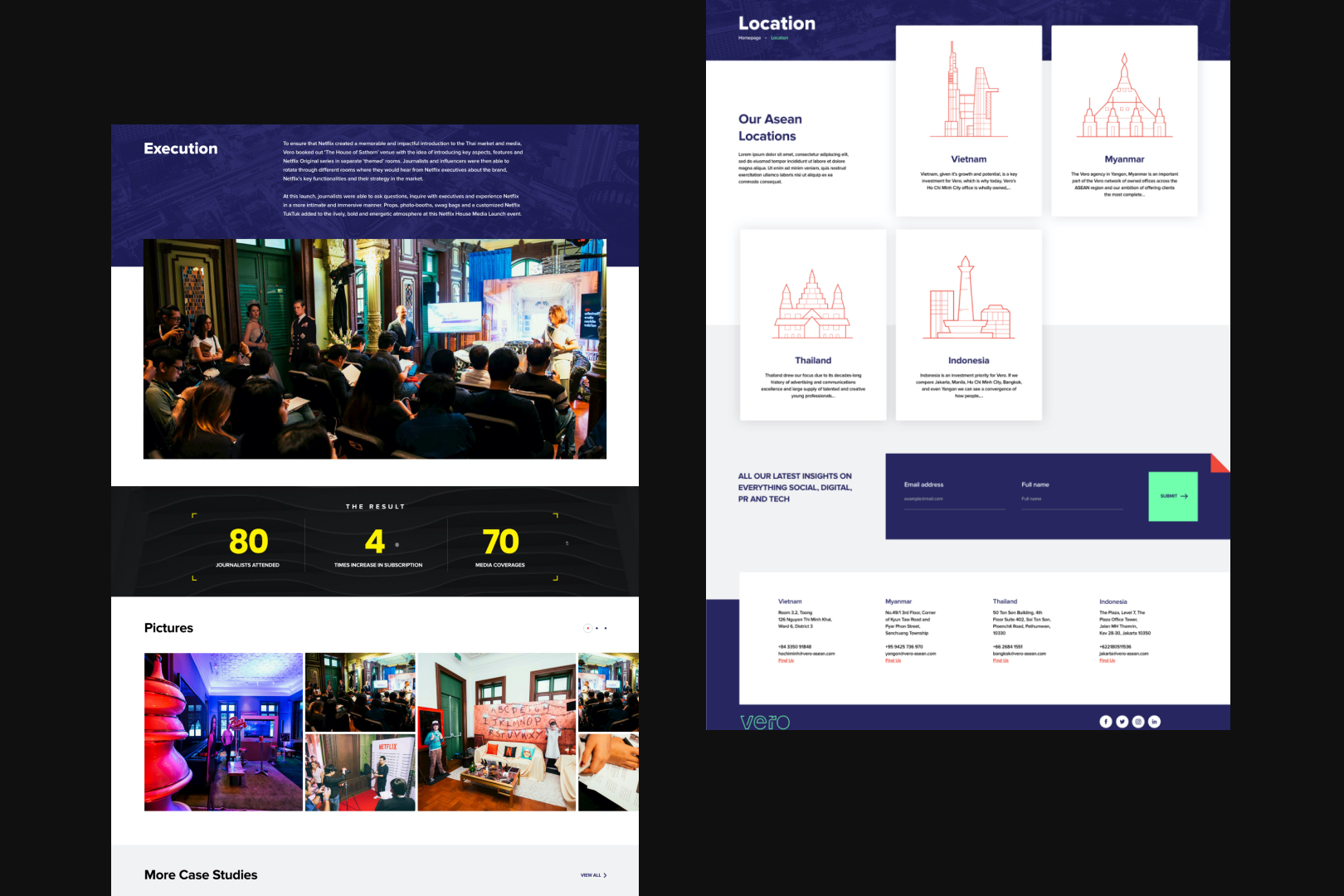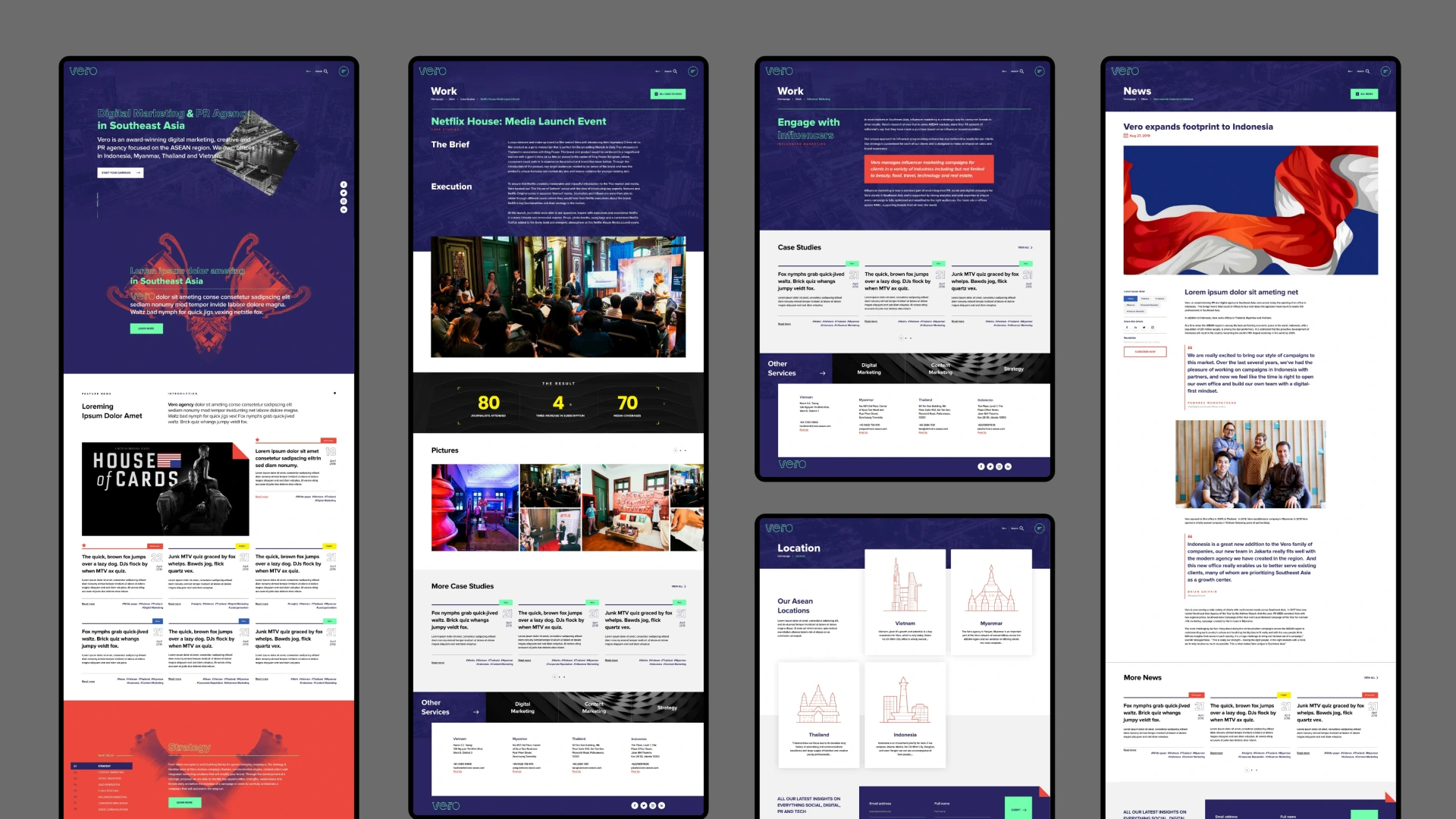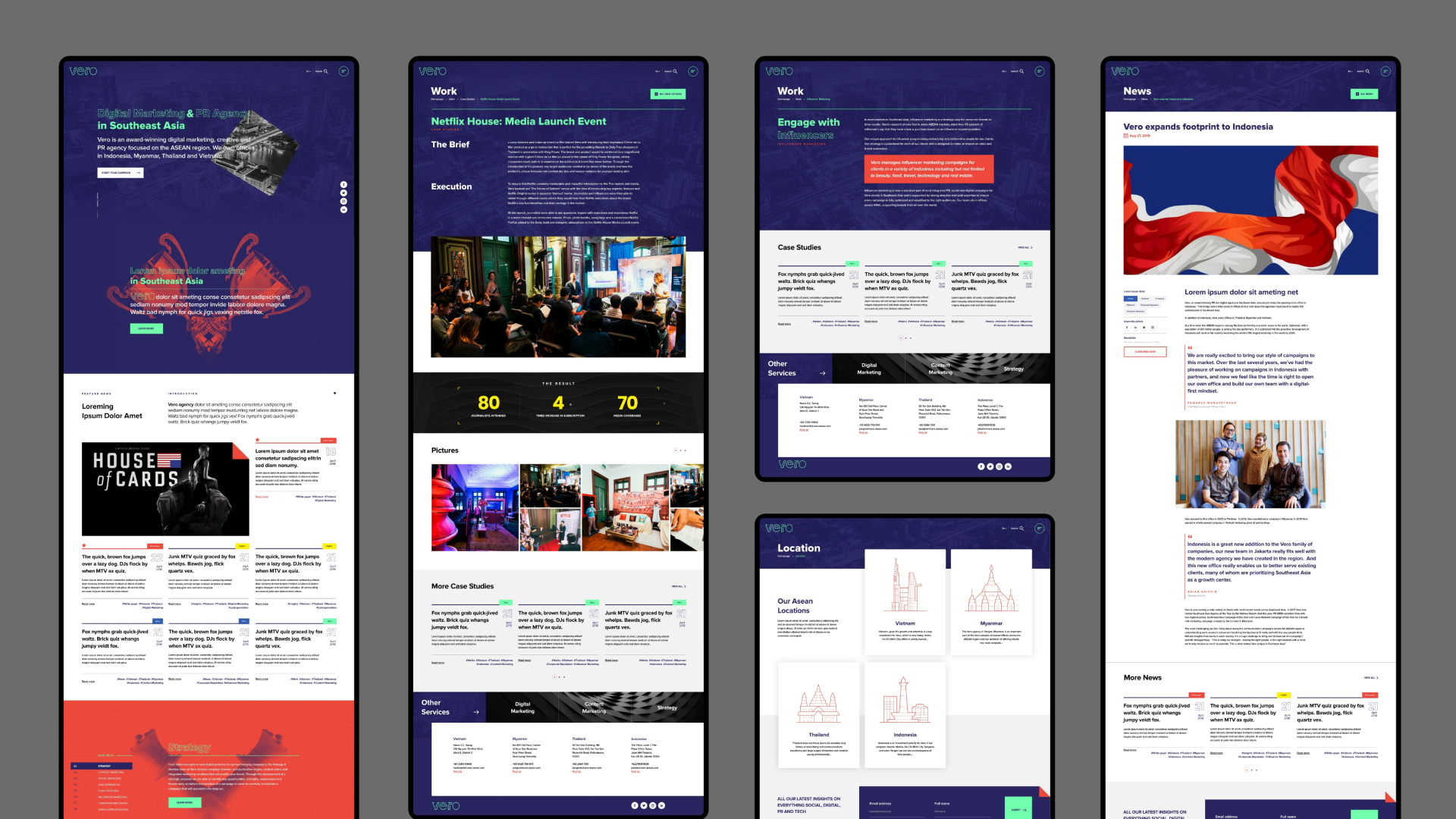 "Viivue manages to be available and helpful, they didn't hesitate to go out of their consulting scope to ensure all parties share the same understanding. To this day, our website remains highly relevant to the work we do and to the brand clients we talk to – Viivue managed to design and structure a web experience in line with our expectations, and sturdy enough to require very few maintenance and troubleshooting."
Raphael Lachkar
Chief Operating Officer - VERO ASEAN